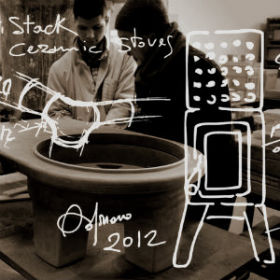 La Castellamonte has been working for a long time in artistic craftmanship and has obtained in 2001 the brand "Piedmont Craftmanship Excellence".
The owners, Silvana Neri and Roberto Perino, have been able to preserve the ancient techniques of craftmanship, thus creating high quality products, adapting them to the new demands of a modern existence and to the strictest european and international norms in environmental protection.
In this way we produce our ceramic stoves, with wood or pellet combustion, with brand "La Castellamonte", in which traditional experience and an innovative technology respectful of the environment and safety are combined.
Craftmanship quality entirely "made in Italy" and technology are our trade mark.
All production steps, from project to product, are followed with care by experienced and qualified staff, assisted where necessary by the most advanced technology.
Every stove is created with the maximum care for details, entirely by hand in our factory in Castellamonte.
Castellamonte, tradition and design